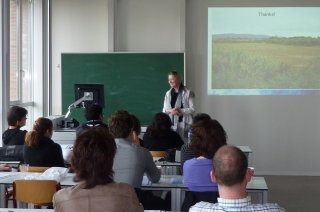 Courses & Workshops
Do you want to expand your knowledge in the area of anaerobic wastewater treatment, anaerobic digestion, resource recovery and reuse or New Sanitation options? LeAF organizes tailor made courses and workshops on all these subjects. Also aspects related to sanitation in developing countries are possible course topics.
On request we prepare a workshop or course, taking into account your specific needs and wishes with respect to the topics and the duration. Excursions can be included as part of the programme. Courses and workshops can be organised as a single event, but of course they can also be integrated in larger projects. In principle all our courses are given by LeAF personnel, but instructors of allied organizations such as Wageningen or Delft University may also be involved.
Our people are also willing to act as guest lecturers for symposia and courses organized by others.
Examples of course topics

Principles of anaerobic wastewater treatment
"Crash course" anaerobic design
Microbial and biochemical aspects of digestion
Design and modelling of anaerobic digestion
Basics technologies in urban environment management: water, waste, energy
Current issues in wastewater treatment
Circular urban metabolism: closing water, energy and material cycles in urban context
Sanitation (water and waste) systems for countries in development, including reuse aspects
Sanitation system choice including stakeholders
New sanitation
Urban Sanitation and Introduction to Wastewater Treatment
Managing Wastewater in the City of the Future
Reuse of wastewater in agriculture