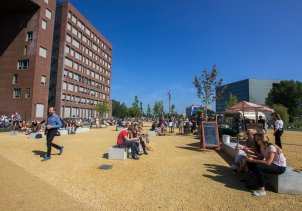 Explore the campus
Because we believe sharing knowledge is as important as developing it, Wageningen Campus is a place where research, education and entrepreneurship meet. The striking buildings of Wageningen Campus central monoliths of Wageningen University & Research and the neighbouring Business & Science Park Wageningen provide diverse facilities and spaces. The sustainable solutions developed there are put into practice on campus as well, making Wageningen Campus one of the most sustainable knowledge campuses in the world.
A sustainable environment
Wageningen Campus inspires innovators to work on a sustainable future by providing a highly sustainable work-environment, which is already 80% climate neutral. For example, buildings are constructed and maintained according to high sustainability targets. Most buildings on campus are heated and cooled with Aquifer Thermal Energy Storage that stores heat and cold between seasons. Waste is separated in up to fifteen different flows and organic waste is used again as compost on the campus itself. The campus actually generates more renewable energy than it uses.
All organizations on the campus consider sustainability to be of paramount importance.
Campus tours and Art, nature and science route
Students of Wageningen University & Research are trained as campus tour guides and provide various campus tours. Look here for the possibilities. Or join the protein transition campus tour!
Discover the artwork on Campus
Wageningen University & Research has always been interested in and committed to the visual arts. Art and science, both curiosity-driven, can reinforce and inspire each other!
In the past, a new work of art was placed at the opening of a new building, this tradition is still continued. With the concentration of education and research on Wageningen Campus, many of the works have been moved to the campus. The artwork usually have common ground with the domain of Wageningen University & Research. But also works of art commemorating a specific event can be found on Wageningen Campus.
Wageningen Campus, a green oases
Wageningen Campus does not only focus on sustainability and circularity, but also offers a green environment with beautiful water features where students, employees and visitors can relax. The grasslands, hedges and wooded areas on the campus are not only a green oasis of tranquility, but are also part of ecological corridors that support the migration, reproduction and development of flora and fauna.Enjoy all that green!