Sustainable campus
Wageningen Campus inspires innovators to work on a sustainable future by providing a highly sustainable work-environment, which is already 80% climate neutral. Wageningen University & Research is considered the most sustainable university in the world for the fifth consecutive time in 2021, according to the Greenmetric ranking. Other campus inhabitants do not lag behind. In terms of energy, water, construction, waste, food and mobility Wageningen Campus aims for the top.
Innovative construction
Most buildings are constructed and maintained according to
high sustainability targets
. The buildings constructed by FrieslandCampina and Unilever, and Plus Ultra I and II, are independently certified for their sustainability. FrieslandCampina's building is equipped with a sustainable air-conditioning system. Both it and Plus Ultra I and II draw energy from solar panels, with the latter counting up to 660 panels in total. In addition, the building of the Netherlands Institute of Ecology is itself a testing ground for ecotechnology. For example, it sports an experimental green roof that stores water and regulates the temperature of the building.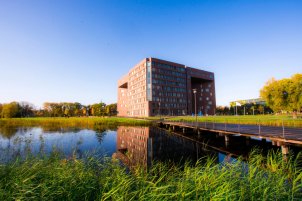 Sustainable water use
Water use has been reduced in several ways on Wageningen Campus. Three buildings, Gaia, Lumen and that of NIOO-KNAW, use grey water where possible to limit the waste of drinking water. Vitae, another building, adjusted it's cooling system to reduce the amount of water used, and various other sites use natural spring water. There are several large bodies of water on campus that gather surface water and allow it to flow back deeper into the ground.
Thermal Energy Storage
Most buildings on campus are heated and cooled with Aquifer Thermal Energy Storage that stores heat and cold between seasons. This system stores head and cold across the seasons in sand layers underground. In summer the buildings are cooled with stored cold water and heat is stored. In winter stored heat is pumped up and used for heating ventilation air. This system has almost completely reduced the natural gas consumption on campus.
Blossoming Biodiversity
The meadows, hedgerows and forested areas on campus form a green oasis and actually serve as ecological corridors to facilitate migration, reproduction, feeding and adaptation of wild- and plant life.
The Flora and Fauna policy on campus
is actually founded on biodiversity, creating different growing and living conditions for a wide variety of plants and animals and strengthening the connection to surrounding nature. The campus serves as a Living Lab where education, research and entrepreneurship come together in pilots and student assignments.
Living green
Sustainability and corporate social responsibility are
central to Wageningen University & Research's mission
, even in small things. Healthy living for students and staff members is promoted with sustainably produced food in the canteens, reduction of food waste and greener travel by an innovative, regional transportation concept that includes public transport, electric driving and (electric) biking. Waste is separated in up to fifteen different flows on campus and organic waste is reused as compost.