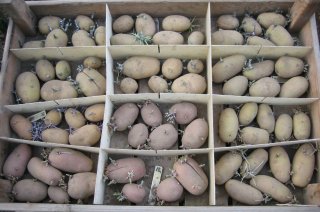 Phytophthora resistance in Potato
The Dutch organic potato production is still heavily under pressure, mainly due to the major problems with Phytophthora infestans (late blight), as occurring in warm and moist weather conditions.
Organic growers need varieties adapted to organic farming conditions. In addition to good growth under low fertilization levels, these potato varieties must also have high levels of resistance to diseases. Resistance to phytophthora is the most important, but also other traits are important, such as reduced susceptibility to alternaria, rhizoctonia, scab and viruses, and a good dormancy.
These properties are also important for non-organic growers who want to reduce the use of chemical agents. Researchers at the Louis Bolk Institute and Wageningen University & Research address the problems together with professional breeders and farmer breeders in the Bioimpuls project of "Groene Veredeling".